American RV University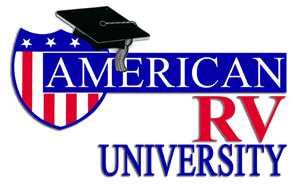 A brand new concept and a brand-new commitment to RVing in our community, American RV University is designed to take the mystery out of your RV. Whether you are a new or experienced RVer, the learning never ends. We've asked RVers just like you what topics they'd like to learn more about, those they don't understand, and even topics that other dealers won't spend the time to educate their customers about. If it has to do with RVing… we'll educate you.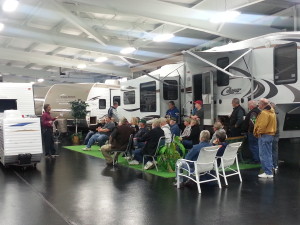 Some of the topics planned for upcoming seminars include:

- Winterizing
- Roof Care
- RVing 101 – What is it and is it right for me?
- Towing 101
- Basic RV Maintenance
- Staying Connected on the Road – Satellite, Internet, Phone
- Proper Towing Equipment Selection
- My First Camper – What do I need to know?
- Cooking and Camping – A Crash Course
- Warranties – What do they cover?
- Fiberglass Care
- Exterior Seal Maintenance
Tire Safety
All American RV University Classes are COMPLETELY FREE and OPEN TO THE PUBLIC and are presented in a 100% SALES-FREE ZONE.

Our goal is to provide a completely relaxed learning environment that focuses on you and your RV experience. We'll even provide the donuts and coffee for morning classes.